How could equity release help you?
With life expectancy continuing to increase, dwindling pension pots and the rising cost of living, equity release could prove versatile in helping you meet a range of financial needs before, at and during retirement.
For many people their home is probably their biggest financial asset, far outweighing any savings and income. A popular way to tap into this wealth is through an equity release plan.
Homeowners aged 55 years old or over could benefits from tax-free cash, whilst in most cases, continue to own their own home¹.
Why Age Partnership Customers released money in 2017
We found that paying off a standard mortgage or other debts was the most popular reason, followed by home and lifestyle improvements. But whether you're looking to make a one-off purchase or would like to help family, equity release could be the answer.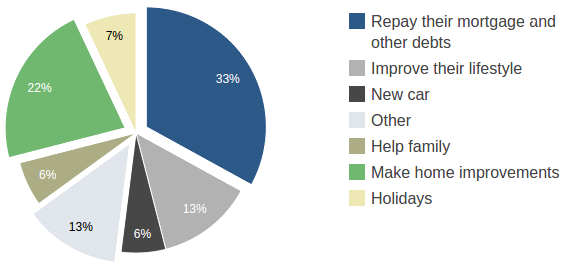 ¹You only continue to own your home with a lifetime mortgage.
²Think carefully before securing other debts against your home. By extending the term of these debts you will be increasing the overall cost.
Tens of thousands of people just like you are already enjoying the benefits of having released funds from the value of their properties.
---
It is important that you have access to the very best independent advice before you proceed. This is precisely why we are happy to discuss your options with you and everything that needs to be considered. Age Partnership's dedicated team are happy to guide you through every step of the equity release process.
Equity release may involve a home reversion plan or lifetime mortgage which is secured against your property. To understand the features and risks, ask for a personalised illustration.
Things to consider
As multi-award-winning equity release specialists we provide impartial advice covering your options as well as explaining what impact a plan could have on the size of your estate and if your entitlement to current and future means-tested benefits could be affected now or in the future.
We provide initial advice for free and without obligation. Only if you choose to proceed and your case completes would a typical fee of 1.95% of the amount released be payable.
Equity release requires paying off any existing mortgage. Any money released, plus accrued interest would be repaid upon death, or moving into long-term care.