We are extremely honoured to accept the awards we have won over the years, and we believe the reviews from our customers are a great credit to our service. Below are just some of the achievements that we are very proud to have been awarded.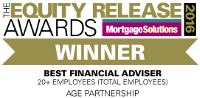 Best Financial Adviser 20+ Employees Winner: we are pleased to announce that we have been nominated as a finalist in this year's Equity Release Awards 2016.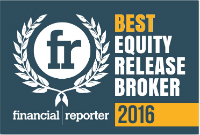 The Financial Reporter Awards are a highly regarded awards programme within the industry, and were developed to support a changing industry by promoting good practice and excellent service. We were delighted to have won the Best Equity Release Broker Award for 2016, which acknowledges our exceptional service to our customers.
Investors in Customers (IIC) have ranked us as the number one financial business in the UK. This also puts in their top 5% best ever performing Financial Services and we are the number 1 IIC accredited company for 2016 to date.
Awards and achievements
2016

2015

2014

2013

2011

2010
Whilst our main objective is to provide exceptional service for every single one of our customers, it is hugely rewarding to be recognised for our hard work and expertise. A satisfied customer is reward in itself, and we believe that rewards are a by-product of the hard work our team puts in every day.
Investor in Customers (IIC) conduct independent assessments of organisations to establish the strength of their customer relationships. This is done by collecting feedback from both customers and staff. We have recently been granted the highest possible award from the IIC, a 3 star status. This officially classes our service as exceptional.
Investor in People (IIP) provides a best practice people management standard using a framework that defines what it takes to lead, support and manage people well for sustainable results. We are pleased to have recently been awarded an Investors in People accreditation. This shows that we are a great employer, an outperforming place to work and have clear commitment to sustainability.
Trustpilot is an independent review site. It has an open community, meaning all customers are invited to leave feedback on the services they use, or companies they purchase from. All of our reviews are from genuine customers that have used our service, demonstrating how seriously we value our relationships with every single customer who comes into contact with us.
The Sunday Times Fast Track 100 is a guide to the fastest growing privately held companies in the UK. The league table ranks Britain's top 100 private companies with the fastest-growing sales over their last three years. In 2011, our success was identified and we were ranked 73rd.
We are determined to never rest on our laurels, and will continue to work harder and harder for all of our customers, ensuring that the standard of our service never drops. All of our services are built around developing close relationships with every one of our customers.
If you are interested in receiving our award winning service, please call us on Freephone 08080 555 222. Our highly trained team will endeavour to help find the ideal answer for any questions you may have regarding your finances in retirement, ensuring you can enjoy your golden years.