Request your FREE equity release brochure
Please fill in the form below to request your free guide to equity release.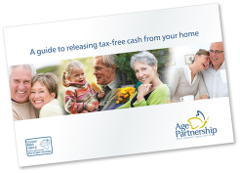 By supplying your email address, you are confirming that you are happy for us to contact you via email regarding our relevant products and services.
We may need to contact you on the telephone number you are providing regarding your enquiry.
At Age Partnership, we understand that an equity release scheme is not for everyone. As you approach retirement age, everyone's financial and personal situation is completely different – so may require different levels and forms of help and assistance.
Some people may benefit from releasing equity from their property, whilst others may be better suited seeking alternative financial routes. Determining whether or not you'd benefit for an equity release product is our first, and most important, responsibility. We would never recommend an equity release product for a party we believe to be unsuitable.
This is why we suggest that the first step for every interested party is requesting a free equity release brochure, helping you understand exactly what the schemes entail. The detailed and jargon-free brochure guides you through the process of applying for an equity release product, before explaining the full and long-term ramifications of committing to the scheme.
Our no-pressure approach will help you identify whether or not releasing equity is the smart and financially savvy move. Offering completely honest advice, the experienced Age Partnership team are on hand to answer any questions or concerns you may have regarding the brochure and the equity release products.
Alternatively if you are looking to talk directly to a member of the Age Partnership team before receiving the brochure, it is possible to contact us by telephone or request a call back today.
Equity release may involve a home reversion plan or lifetime mortgage which is secured against your property. To understand the features and risks, ask for a personalised illustration.
Things to consider
As multi-award-winning equity release specialists we provide impartial advice covering your options as well as explaining what impact a plan could have on the size of your estate and if your entitlement to current and future means-tested benefits could be affected now or in the future.
We provide initial advice for free and without obligation. Only if you choose to proceed and your case completes would a typical fee of 1.95% of the amount released be payable.
Equity release requires paying off any existing mortgage. Any money released, plus accrued interest would be repaid upon death, or moving into long-term care.