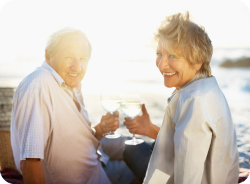 Completing your annuity purchase
As part of our service, we will be delighted to arrange the purchase of your pension annuity on your behalf.
This will involve a transfer of funds from your current pension provider(s) to your chosen annuity provider. Don't worry if this sounds like hard work, because it's part of our job to do this for you; and we have a team of specialists for precisely this purpose.
Typically it will take between 2 and 4 weeks to complete the annuity purchase, at which point you will receive your chosen amount of tax-free cash and your income payments will begin.
Throughout this process, we will keep you informed, and ensure that your chosen annuity provider has all of the information that they will need to secure the rate that you have chosen.
For more information speak to one of our annuity specialists on Freephone 0800 975 5151 for more information or use our online annuities calculator
« Back to 'Our service'
Explore our site