Annuity Rate Tracker
Last updated: 5th April 2016
Annuity rates are constantly changing. So it is hugely important to keep up-to-date so that when you exchange your pension pot for an annuity, you get as much income as possible for your retirement. Keeping an eye on the industry can introduce you to preferable rates and could significantly increase your pension in retirement.
At Age Partnership, we constantly keep abreast of the rate changes of the major providers – so it is easier for you to stay informed. Centralising the information, it is easier for you to compare the latest rates, and determine whether or not you would benefit from switching provider.
Unfortunately, many people are unaware of this option of the benefits that it provides, so do not move to take advantage of improved rates.
The graph below has tracked rate changes from the main providers within the annuity market, so you can make an informed decision about when you're likely to get the most annual income from your annuity:
Single Life, Male and Female 65, £50000, Level Escalation, No Guarantee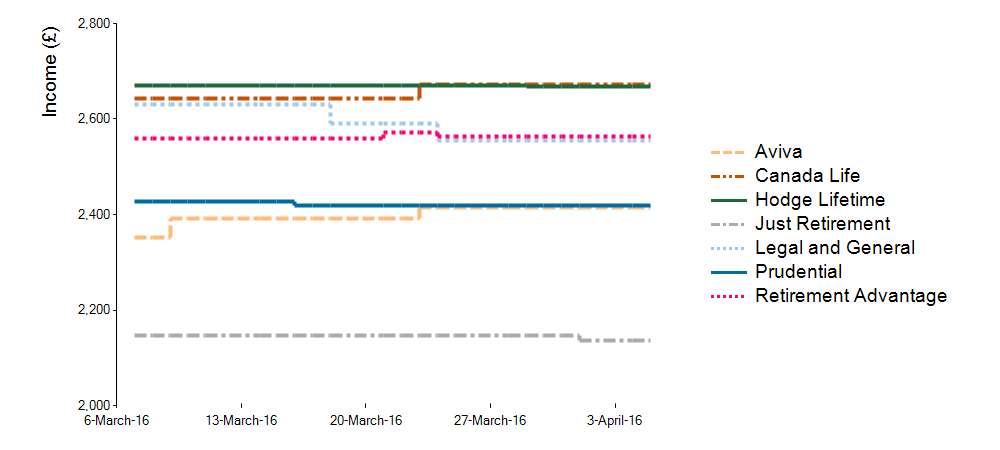 *AMS Annuity and this rate chart is provided free of charge by Annuity Exchange
**These rates are for non-smokers with no medical conditions
We update this graph on a regular basis, so please keep coming back and checking.
If you want to receive a no-obligation annuity quote, visit our online annuity calculator.

This perfectly exemplifies the benefit of keeping an eye on the rate on a regular basis. Even if you are currently receiving the best rates for your circumstances, keeping an eye on this graph can provide the peace of mind that your pension is working for you.

Like our Facebook page to keep up to date with all the latest pension annuity news and changing trends.

Alternatively, the Age Partnership team are available to discuss the changing pension landscape and offer up-to-date information and advice. Our team will provide completely impartial and transparent advice and assistance if you are looking to benefit from changing annuity rate, or any other aspect of your finances in retirement.