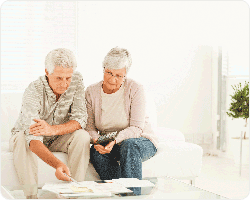 Things to consider
Securing a mortgage is a big financial decision, so it is very important that you understand the features of any mortgage you take out. As fully qualified advisors, it's our job to ensure that you understand the commitment you are making.
In particular, it is very important that you keep up with your repayments. Failure to do so can result in your home being repossessed, so we will always talk through your financial circumstances with you before making our recommendation.
Consider protection against the unexpected
When taking out a mortgage, you may want to consider how you would keep up your repayments if something unexpected were to arise, such as your being unable to work due to illness, or losing your job as a result of our difficult economic times.
If this is something that concerns you then you should consider some kind of insurance protection. A wide range of policies are available that can compensate you in the event that you were unable to work for a variety of reasons. All of our mortgage advisors are qualified and experienced in this area, so we will be happy to talk through your requirements and ensure that you benefit from total peace of mind.
For more information on mortgage protection insurance, life or critical illness cover, visit the Life Insurance section of our website.
Your home may be repossessed if you do not keep up repayments on a mortgage.
We provide initial advice for free and without obligation. Only if you choose to proceed and your case completes would a typical fee of £495 be payable.