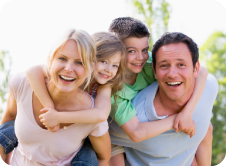 Choosing the right type of protection
Whilst it's never nice to think about what could go wrong in life, it's important to plan for the unexpected.
This is why we advise upon a range of different life-insurance policies that can not only provide you with peace of mind, but also ensure that you and your family are looked after in the event that things don't go to plan. So don't worry if the wide array of options is daunting, we're here to help.
Term assurance
With term assurance, a lump sum is paid out if you are to die within a pre-agreed period of time (the 'term'). This kind of policy is available for individuals and also for couples. In the latter case, the policy would pay out if either of you were to die within the term.
Whole-of-life insurance
A whole-of-life insurance policy is simple, as it pays out an agreed sum of money when you die.
Critical-illness cover
This type of protection pays out a lump sum on diagnosis of a critical illness. Aside from ensuring that your family benefits from some financial breathing space, this can be extremely useful in ensuring that you have the funds available to pay for care.
Payment-protection insurance
There are a number of different policies available that may cover such things as mortgage, loan or credit-card repayments in the event that you were unable to work due to accident, sickness or unemployment. This can be particularly crucial if you are the principal breadwinner in your family and want to provide some protection against repossession. A variety of options are available, which our advisors will be happy to talk through with you.
Income-protection insurance
Income-protection insurance can replace your earned income if you become unable to work for a period of time due to an accident or sickness. This can help you to concentrate on getting better rather than having to worry about money. Like other types of insurance, policies vary so it is important to make sure you understand the details of any plan.
*Dependent on your individual circumstances.