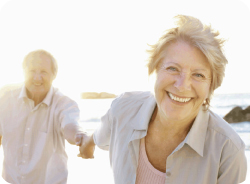 Taking some of your pension fund as a tax-free lump sum
When you come to buy your annuity, you will usually the option to take anything up to 25% of your pension savings as a tax-free lump sum of cash immediately.
The benefit of doing this is that the money is not subject to any income tax, and can be used for whatever you like. Some people use this money to clear any outstanding mortgage they have, to make home improvements or to take a post-retirement holiday.
However, you should be aware that the more tax-free cash you take at the outset, the less you will have left over to buy your annuity and, therefore, the smaller your annual income will be.
As part of our service when arranging your chosen annuity, we will arrange for your chosen sum of tax-free cash to be paid to you directly.
For more information speak to one of our annuity specialists on Freephone 0800 975 5151 for more information, or use our online annuities calculator
Back to 'Your Annuity options'
Explore our site