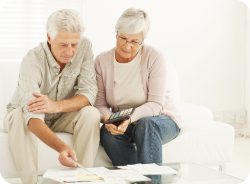 What is an annuity?
If you are aged between 55 and 75, you can convert your pension savings into a regular, guaranteed income, which will be paid to you for the rest of your life and will help to support you throughout your retirement. This is called an annuity.
In most cases, the company with whom you have saved your pension fund during your working life will offer to convert these savings into an annuity for you when you come to retire; however, this will very rarely offer you the best value for money.
Shop around to get the best annuity rate in retirement
In order to ensure that you get the best income - or 'annuity rate' - available to you, it is important that you don't accept your pension provider's offer, but instead shop around to secure the best deal.
Our comparison service lets you do precisely that. Furthermore, once you have compared annuity rates and selected the best annuity rate to suit your circumstances, you will need to arrange to buy this annuity with your pension savings. But don't worry, as we'll do that for you.
Before you choose an annuity, there are a few options that you should consider. Our instant quote service will take you through these options; but if you would like to read more about them before you proceed, you can read about your pension annuity choices here.
In particular, you can choose to take up to 25% of your pension savings immediately as tax-free cash, although doing so will reduce the amount that you have left to buy your annuity and, therefore, the regular income that you will receive throughout your retirement.
Once you have chosen your pension annuity it can't be changed, so it's important that you get the best retirement income to suit your circumstances. If you are unsure of anything then one of our annuity specialists will be happy to help. Simply call Freephone 0800 975 5151.
Explore our site